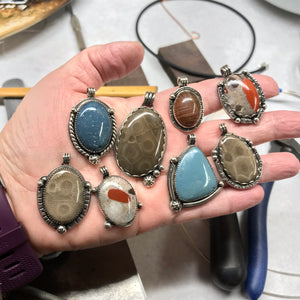 ♥ Upper Peninsula ♥ Keweenaw Peninsula
With Heart, Soul and Intention
Why Choose Superior Northwoods Studio?
Are you that person who finds peace and the ability to quiet the everyday noise while hiking over the moss-covered rugged landscape of the Keweenaw Peninsula...or walking along the shores of a Great Lake searching for small treasures? Do you feel that sense of being "home" in a cabin nestled in the fresh fragrant cedars along the shore of an inland lake? Does your heart race at the thought of viewing the Aurora Borealis dancing in a clear, dark sky? Do you feel in harmony with, and a connection to, not only the northwoods, but the beautiful creatures who live there?
If you have been searching for an heirloom-quality piece of jewelry that evokes a nostalgic memory that you have tucked away in your heart; a remembrance of a special time spent in the northwoods of Michigan's Upper Peninsula or hiking along the shores of Lake Superior, you are in the right space.
Come discover distinctive and timeless artisanal jewelry made to last from Synthia Marsh Jewelry.
Synthia Marsh Jewelry
Here every piece of jewelry is made just for you with my two hands, using traditional metalsmithing tools and techniques and by listening to my heart and soul; with the one simple hope that you will wear, enjoy, cherish and pass it along for generations to follow.
Materials are ethically sourced and from manufacturers that use reclaimed sources and I recycle all my scrap metals, as well. All chains are produced either in the USA or Italy.
Stones are high quality and sourced from reputable lapidary artists when not cut and polished by me in my home studio.
Synthia Marsh
Hello there!
* As my daughter was getting ready to spread her wings, I began to look around to determine what I would do with my empty nest.
* I took some local metalsmithing classes at Kendall College of Art and Design, in Grand Rapids, Michigan, and when I lit that first torch...I was hooked!
* To take metal in it simplest forms of sheet and wire, and to hammer, saw, solder and smooth it into a piece of jewelry was, to me, simply magical. But then to add beautiful stones created by nature and then polished was absolute alchemy!
* That was twelve years ago, and since then I have been meeting wonderful new customers at shows around Michigan and for the past two years through here, my online webshop.
Welcome to Synthia Marsh Jewelry!
Michigan's Upper Peninsula
The Keweenaw Peninsula is my home.
Three hundred inches of snow is normal for us in a typical keweenaw winter!
We have 300-350 deer who travel down from the higher elevation ridges and stay with us every January thru April/May.
Follow my Instagram* or Facebook* pages to view my journey of living in the Northwoods. You can also visit my blog pages by clicking on "Superior Northwoods News" at the top of the page.
*The social media links can be found on the bottom of the Homepage.
Copper Country!
Living in Copper Country, I use various forms of copper as well as stones only found in this area such as Greenstones, Copper Replacement Agates and Datolite in my jewelry.
Some of the copper pieces I have found myself in the old tailings piles of the mines and then cut and polished in my home studio.
Lake Superior
Lake Superior is right out our windows...on a clear day we can see Isle Royale on the horizon.
This majestic lake provides me not only with inspiration, beautiful agates and colorful stones, but it's the place where I can go and refill my soul.
From the singing sands of Bete Grise to the rocky basalt shore of Esrey Park, the Keweenaw Peninsula's Lake Superior shoreline never disappoints.
Lake Superior Agates
I have a large selection of Lake Superior Agate Jewelry available. Rings and Pendant Necklaces.
Come visit in person!
I love getting out and about, seeing familiar faces and making new friends at the art fairs where I display. Because I spend so much solitary time in my studio, I really enjoy meeting and chatting with customers and collectors in person.
Check out my show schedule at the bottom of this page. You can find me at shows above and below the Mackinac Bridge.